| | |
| --- | --- |
| Microwaves, Medicine, Mobility  | |
Panel Event: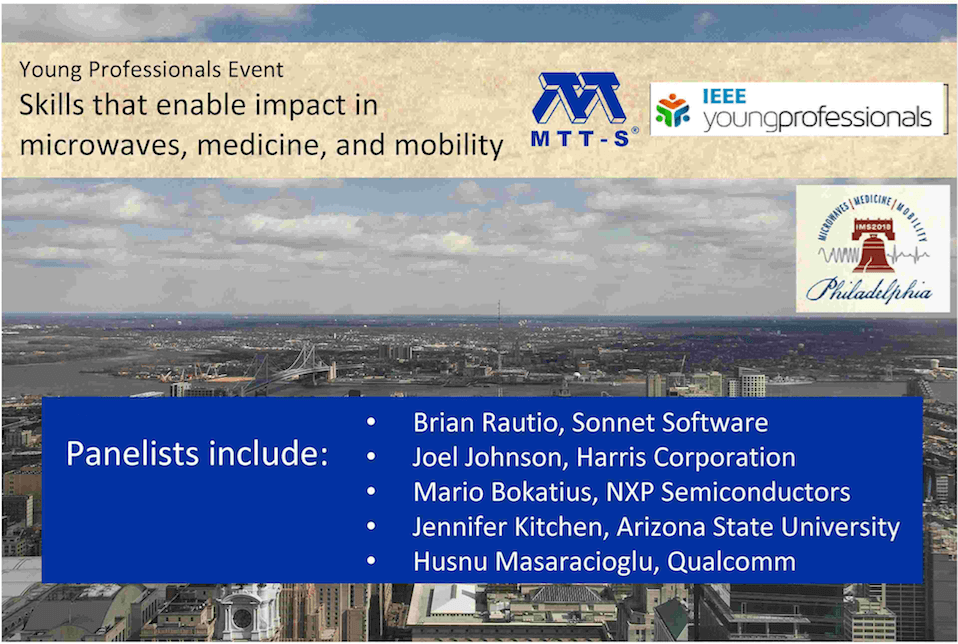 "Skills that enable impact in microwaves, medicine, and mobility"
Tuesday, 12 June 2018
Location: Pennsylvania Convention Center, Room 201A
Time: 17:30-19:00
Panelists:
  1) Joel Johnson from Harris Corporation
  2) Brian Rautio from Sonnet Software
  3) Mario Bokatius from NXP
  4) Jennifer Kitchen from ASU
  5) Husnu Masaracioglu from Qualcomm
Networking Event:    
Tuesday, 12 June 2018
Location: Lucky Strike
Time: 19:30-21:30
This year's IMS steering committee urges the engineering community to be a part of the future of healthcare and the benefits of a connected lifestyle through the theme "Microwaves, Medicine, and Mobility."  Medicine and mobility are increasingly interesting applications of microwave engineering, especially among students and young professional's eager to make a positive mark on the world.
The IEEE Young Professionals is an international community of innovative members who are interested in elevating their professional image, expanding their global network, connecting with peers locally and giving back to the community. A multitude of prestigious companies and institutions are regularly making great strides in these socially important and technically challenging fields.  Many of them are eagerly looking for the next generation of engineers and scientists that will use their valuable skills to develop, guide, and invent exciting advances that push the human condition forward.  However, as a young professional, it isn't always obvious which skills are most valuable or missing from one's repertoire.
That is why we have gathered a diverse and inspiring panel from the microwave community who will discuss what skills their organization looks for in a young engineering professional, desired skills they see young professionals lacking most, and how their pursuit of skills benefited them throughout their career.  Mark your program book, tell your friends, and join the IMS2018 Young Professionals Panel to learn these exciting lessons from the inside.  A reception with fun, food, and networking will follow.